On January 24, I got an email from the Speakers Team at FOSSMeet asking me if I would be able to propose a talk. Fast forward to February 13th, I was on a bus heading to Kozhikode. It's been quite a while since I've talked a conference and this would be the first I'd talk about open data. Despite being a Malayali, I'd actually not met a lot of members of the FOSS community from Kerala. As usual, I enjoyed meeting and talking to people about their work and what they do (yes, I'm still an introvert :D).
On the first day, I attended Praveen's talk (fine, not talk, a discussion) about privacy. Rather fierce arguments broke about privacy, specifically whether the government should invade it to save lives. I'm fairly certain it got a lot of people thinking about privacy. It's hard to think about things like privacy unless you can contextualize it for yourself and that's exactly what happened.
After lunch, I sat in the session about Anoop's workshop about contributing to Open Source. It was meant to give people an idea of the tools you should know. I only sat in it for an hour or so and they were learning git at that time. A while later, I stepped out, primarily because I was starting to get sleepy.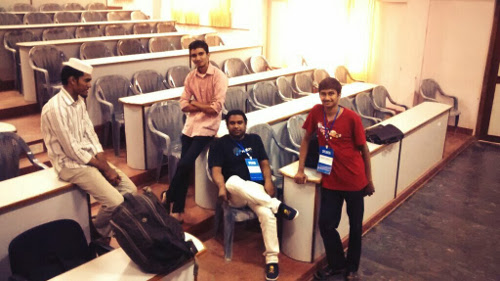 I got back to the main auditorium, just in time to learn that a student passed away on the campus, in the grounds we could see from the auditorium. A wall fell down and he was stuck under it. All of attendees were asked to be in one of the lecture halls while the organizers talked to the faculty and figure out what next. The organizers decided to cancel all the entertainment activities that were planned and the hack night. The remaining sessions were held as an informal discussion rather than actual talks. Later that night, the events of next day were also canceled.
My talk had a few people and we had good conversation about open data and thanks to Nirbheek, we had people glance at The Ballot. I couldn't give the talk I planned, but I'm grateful for the discussions we had. Later that day, the students were leading a protest in front of the director's house and the rest of the event was formally canceled.
FOSSMeet seems to be a wonderful place to get more students aware of free and open source and kickstarting contributions. The organizers had done a good job, but were just unlucky with the turn of events. Now that I've attended FOSSMeet once, I'm planning on attending the next editions for sure.